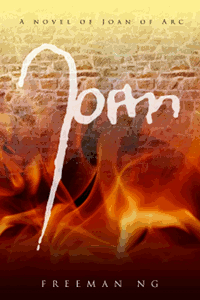 I've just published a novelization of the life of Joan of Arc and am offering a special Haiku Diem Edition to all my readers, at a reduced price and for a limited time.
This special edition:
Has original cover art painted by artist Kathryn Briggs.
Contains extra material not found in the standard edition: haiku at the start of each chapter.
Can be purchased at a 23% discount from the standard edition price!
But it's only available through the end of August.
You can purchase the Haiku Diem Edition of Joan here.
You can learn more about the book, or buy the standard edition if you prefer it, at www.JoanNovel.com.
"An intimate meditation, textured and ingenious…we see Joan as part of something endless – and troubling, yes – but also exuberant and, finally, mysteriously, larger than one life and most certainly larger than one death."
– Tim Wynne-Jones, author of Blink & Caution,
winner of the 2011 Boston Globe-Horn Book Award
"Despite the unusual narration, Ng manages to draw readers to Joan's side during her tribulations, and he creates sympathetic characters in both Joan and Margaret…An engrossing religious and historical account that would make a valuable companion to a high school history unit on Joan of Arc."
– Kirkus Reviews
Comments Off

on A novel of Joan of Arc!